Air Horn
Big sound for our small roadsters
This is it! The best solution to being heard by those huge SUV's who drift into your lane. Easy to install in place of your original "Meep-meep" horn, this horn will fit all four generations of MX-5/Miata (NAs, NBs, NCs & ND's). Average installation time = 20 minutes. No modifications of your car required. It comes complete with a Miata specific mounting bracket, (NA, NB & NC only, ND does not require a new bracket) a new fuse, jumper wires and of course complete installation instructions.
To hear what this awesome horn sounds like, or to view installation instructioins click here.
Over 3,000 of these horns have been installed in Mazdas using our kits.
Already have an "old style" component air horn? It can easily be replaced with this smaller, louder and quicker reacting horn.


Tornado Compact Twin-Tone air horn KIT


The perfect horn for our small roadsters, this compact, genuine Italian air horn has four great features:

1) It's very small and compact (4.5" x 4.5" x 3.25")

2) It's VERY loud! (136dB @ 4")

3) It's all one piece - no hoses to delay response time, fall off, or kink

4) With the Thompson Automotive supplied mounting bracket, hardware, and instructions installation is a snap.

This new generation is designed to eliminate field failures of previous designs.

$56.50



Tornado Twin-Tone air horn - Horn ONLY


Same great Tornado horn, but without the mounting kit or instructions;

No Miata specific mounting bracket

No wiring pig-tails (extension wires to connect to factory connections - plug & play)

No installation instructions, lock nut, washer or 20 amp fuse.

But the horn is the same.

This new generation is designed to eliminate field failures of previous designs

$47.50



Thompson Automotive Nautilus/Tornado install kit for Miata/MX-5


Did you get your Nautilus Compact or Marco Tornado air horn elsewhere? Need a solid, secure mounting bracket, jumper wires to allow a plug & play installation and a 20 amp fuse to fit your car?

Here you go. This kit includes Thompson Automotive designed horn mounting bracket, jumper wires (2), 20 amp fuse, locknut and washer.

$9.95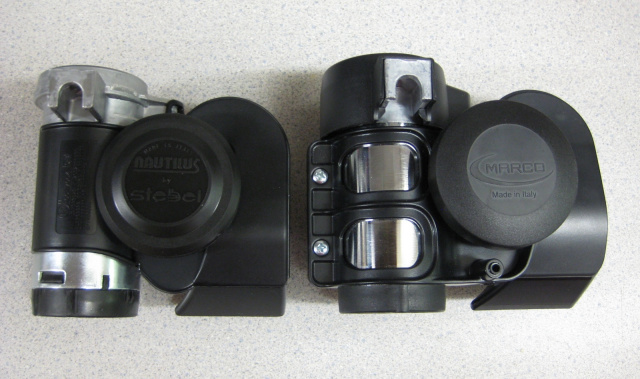 OLD Stebel Nautilus vs NEW Marco Tornado
---
© 2010 Thompson Automotive Products
949-257-2730