Shirts
Finally, a real, classic Hawaiian shirt specifically featuring Miatas/MX-5's. This shirt is made of 100% combed polished cotton and made entirely in the USA. It features a matched pocket (men's shirts only), real coconut buttons, double-stitching, and side vents so the shirt can be worn outside or tucked in.
We are within literally a couple of shirts of being sold-out of out original version shirt which featured the first three generations of Miata. The new version (see below) features all four generations, including the RF and 30 AE and is currently available in most men's sizes. Women's cuts are currently in production and should be available by about April.
For a limited time, and only while supplies last, we've reduced pricing on these very popular original Miata Enthusiast Hawaiian shirts. Hurry - sale pricing applies only to inventory on-hand. These will become a collector's item.
New version shirts now in stock for immediate shipment.
Original New version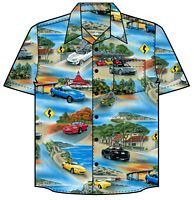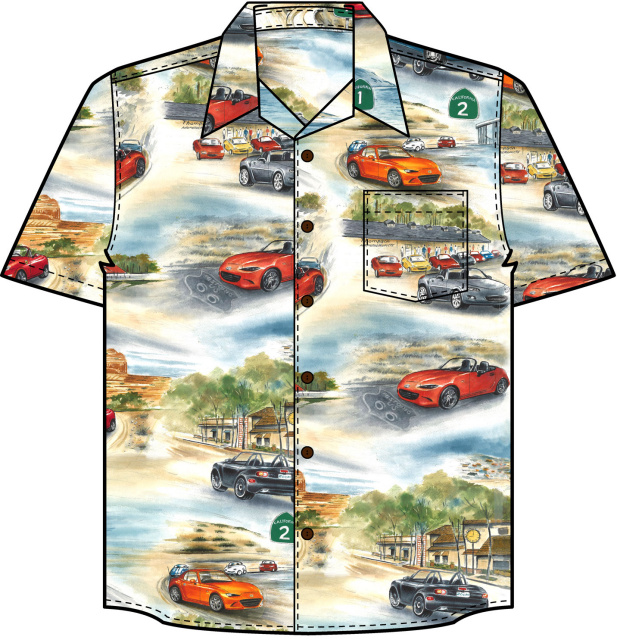 Shirts are now in-stock and available for immediate shipment
Please check size chart below for proper sizing. Hawaiian shirts are designed to fit "loosely." Note Men's sizes run about 1 size larger than a sport shirt. Please compare measurements below against a shirt you currently own - measurements taken with the shirt laid flat.
Miata Enthusiast Hawaiian Shirt Size Chart
Men's

Small

Medium

Large

X Large

XXL
Width (1" below arm)

24"

25"

26"

27"

28"
Around

48"

50"

52"

54"

56"
Chest Size

36-38"

39-41"

42-44"

45-48"

49-52"
Center Front Length

28"

28.5"

29"

29.5"

30"
Center Back Length

33"

33.5"

34"

34.5"

35"
Women's (

no pocket

)
Width (1" below arm)
20"

21"

22"

23"

24"

Center Front Length
22"

23"

24"

24 1/2"

25"

Center Back Length
25"

26"

26 1/2"

27"

27 1/2"
Note: Grayed-out measurements above are for reference only as we are out of stock on those sizes.
Note: Side vents on Men's shirts are 2", on Women's they are 4"


Miata Enthusiast Hawaiian shirt - Men's, Small


Our very popular Miata Enthusiast Hawaiian Shirt has been updated to include all four generations of Miata. We included the 30th Anniversary color, and the new RF. The new shirt is also a lighter color to help you stay cool while driving top-down on bright sunny days.

Men's Miata Enthusiast Hawaiian shirt, size Small

$61.95



Miata Enthusiast Hawaiian Shirt - Men's, Medium


Our very popular Miata Enthusiast Hawaiian Shirt has been updated to include all four generations of Miata. We included the 30th Anniversary color, and the new RF. The new shirt is also a lighter color to help you stay cool while driving top-down on bright sunny days.

Men's Miata Enthusiast Hawaiian shirt, size Medium

$61.95



Miata Enthusiast Hawaiian Shirt - Men's, Large


Our very popular Miata Enthusiast Hawaiian Shirt has been updated to include all four generations of Miata. We included the 30th Anniversary color, and the new RF. The new shirt is also a lighter color to help you stay cool while driving top-down on bright sunny days.

Men's Miata Enthusiast Hawaiian shirt, size Large

$61.95



Miata Enthusiast Hawaiian Shirt - Men's, Extra Large


Our very popular Miata Enthusiast Hawaiian Shirt has been updated to include all four generations of Miata. We included the 30th Anniversary color, and the new RF. The new shirt is also a lighter color to help you stay cool while driving top-down on bright sunny days.

Men's Miata Enthusiast Hawaiian shirt, size Extra Large

$61.95



Miata Enthusiast Hawaiian Shirt, Mens, XXL


Our very popular Miata Enthusiast Hawaiian Shirt has been updated to include all four generations of Miata. We included the 30th Anniversary color, and the new RF. The new shirt is also a lighter color to help you stay cool while driving top-down on bright sunny days.

Men's Miata Enthusiast Hawaiian shirt, size Extra, Extra Large

$63.95



Voodoo T-Shirt I "Swamp Thing"


He's BA-ACCKKK! The "Swamp Thing" returns! And this time the graphic's been redesigned to "pop" right off your back. The most popular Voodoo Shirt to-date is once again available (still in black only) in sizes medium, large, extra large, and XX-large.

| | |
| --- | --- |
| Orig.: | From $19.95 |
| Sale: | From $17.95 |



Voodoo T-Shirt III


The Voodoo Shirt III, with the internationally-famous Pollo Rampante on the back, is still available in any color as long as it's black. Now you can announce to the world that you're a Voodooisti without saying a word! In sizes medium, large, extra large, and XX-large.

| | |
| --- | --- |
| Orig.: | $19.95 |
| Sale: | $17.95 |



Voodoo T-Shirt IV "Chicken Shift"


We've finally put the Pollo to work on the back of our "Chicken Shift" shirt. These shirts are available in red only, and in sizes medium, large, extra large, and XX-large.

| | |
| --- | --- |
| Orig.: | $19.95 |
| Sale: | $17.95 |
---
© 2010 Thompson Automotive Products
949-366-0322