Voodoo Caliper Covers
The easiest way ever to enhance the appearance of your Miata/MX-5. Get the look of expensive big brake system upgrades without the high expense or hours of labor. Even easier (and better looking) than painting your calipers.
Our Voodoo Caliper Covers for Mazda Miata/MX-5 not only look awesome, but they also help to reduce brake dust deposits on your wheels and even help dissipate heat. Voodoo Caliper Covers are made of 6061-T6 aluminum and are powder coated. They are firmly attached to the brake caliper via stainless steel clips and threaded studs with lock-nuts. Installation takes only ~10 minutes per wheel. Get the big brake look without the big brake expense.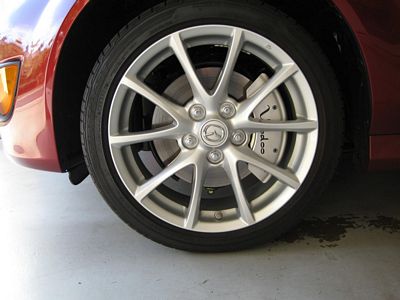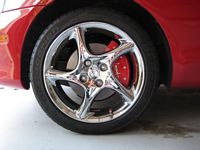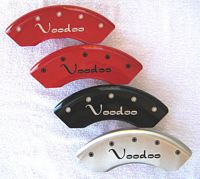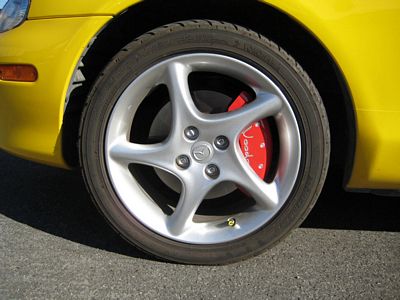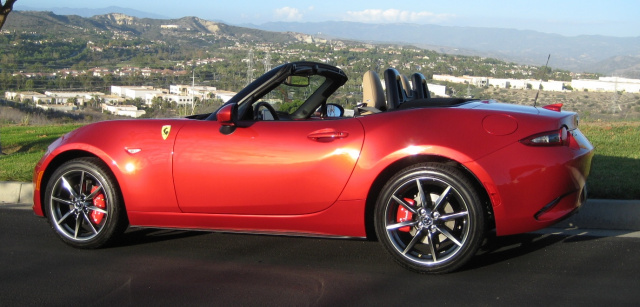 Standard colors and fills shown above, custom color match to your body color is available for an additional charge.
NOTE: Sorry, Voodoo Caliper Covers will not fit 1990 - 1993 cars.
Use filter below to select only caliper covers that will fit your car:
Filter Results: 5 found
Tags: Vehicle & Model (2nd Gen Miata (1999-2005))


Voodoo Caliper Covers for 2001-2005 Miata (NB), Red powder coat, Silver fill


Set of 4 Caliper Covers (front and back) for NB Miatas. Red powder coated with Silver fill on engraving.

VC052RS

Note: Must have 16 inch or larger wheels.If you have a 1999-2002 Base model (with 15" wheels) please order VC058RS

$240.00



Voodoo Caliper Covers for 2001-2005 Miata (NB), Red powder coat, Black fill


Set of 4 Caliper Covers (front and rear) for NB Miatas. Red powder coated with Black fill on engraving.

VC052RB

Note: Must have 16 inch or larger wheels. If you have a 1999-2002 Base model (with 15" wheels) please order VC058RB

$240.00



Voodoo Caliper Covers for 2001-2005 Miata (NB), Yellow powder coat, Black fill


Set of 4 Caliper Covers (front and back) for NB Miatas. Yellow powder coated with Black fill on engraving.

VC052YB

Note: Must have 16 inch or larger wheels. If you have a 1999-2002 Base model (with 15" wheels) please order VC058YB

$240.00



Voodoo Caliper Covers for 2001-2005 Miata (NB), Satin powder coat, Black fill


Set of 4 Voodoo Caliper Covers (front and back) for NB Miatas. Satin powder coated with Black fill on engraving.

VC052SB

Note: Must have 16 inch or larger wheels. If you have a 1999-2002 Base model (with 15" wheels) please order VC058SB

$240.00



Voodoo Caliper Covers for 2001-2005 Miata(NB), Black powder coat, Silver fill


Set of 4 Voodoo Caliper Covers (front and back) for NB Miatas. Black powder coated with Silver fill on engraving.

VC052BS

Note: Must have 16 inch or larger wheels. If you have a 1999-2002 Base model (with 15" wheels) please order VC058BS

$240.00
Sorry, but unfortunately we are unable to supply Voodoo Caliper covers to fit early Miatas (1990 thru 1993)

---
© 2010 Thompson Automotive Products
949-257-2730